One piece wearing the traditional craft "Tango Chirimen"
A 2-way dress that uses Kyoto's traditional craft "Tango Chirimen". We are aiming for a new tradition by combining Tango's Chirimen, which has been producing textiles for over 1300 years, and Renakunatta's approach.

When you hear the word "chirimen," you may imagine Japanese patterns. However, the skirt this time is dyed in one color to bring out the beauty of the chirimen to the fullest. Please enjoy the modern atmosphere that can only be achieved by simply dyeing, and the texture (unevenness) that is the greatest feature of chirimen.

From short outings, meals, wedding invitations, and other formal occasions.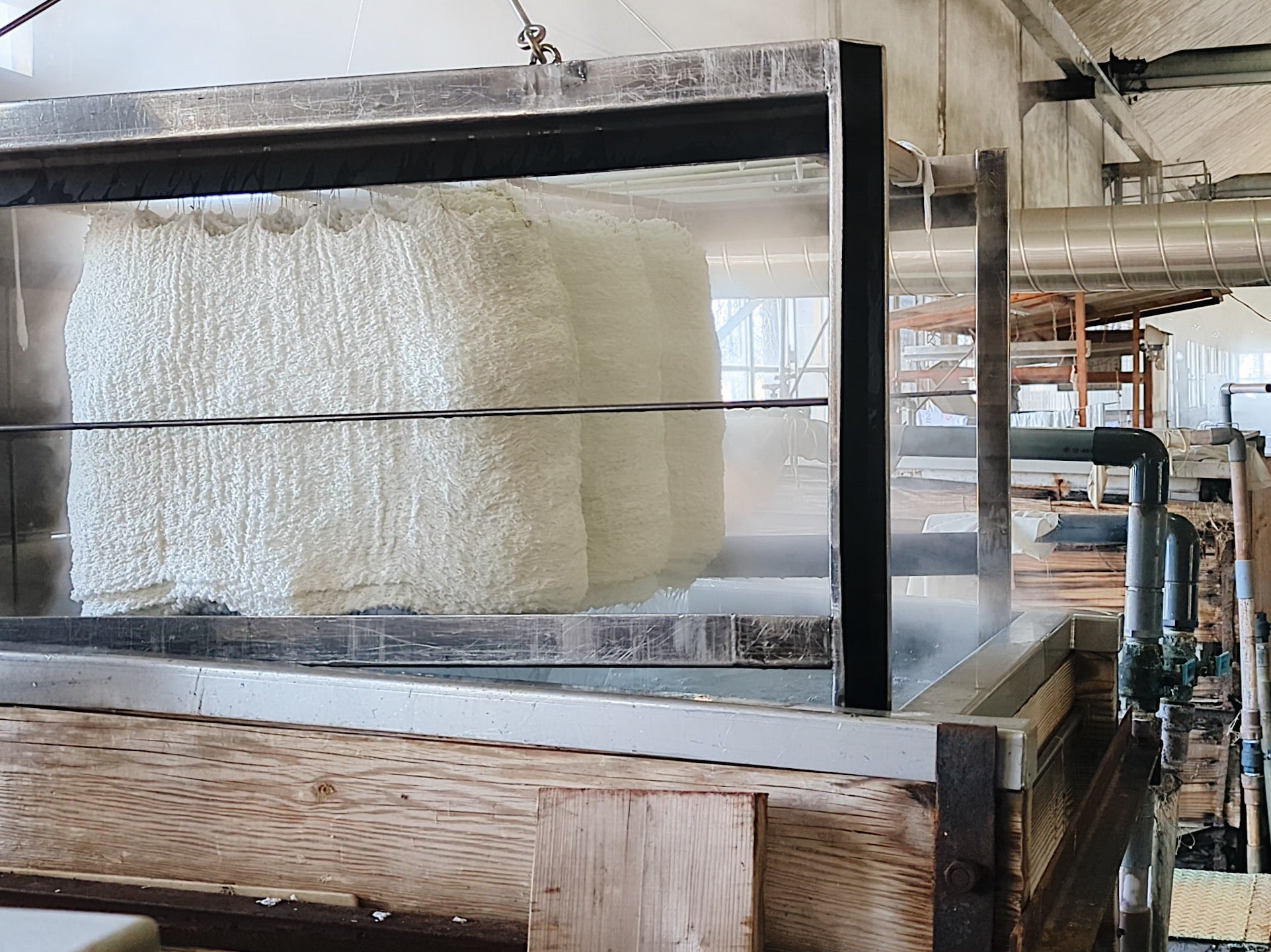 Clothing with new possibilities and the tradition of Tango Chirimen
Usui Orimono Co., Ltd., who teamed up with us this time, is a weaver who is exploring new possibilities for chirimen by making use of the techniques that have been passed down. We are challenging new materials and manufacturing processes to change the impression of "chirimen", which has a strong image of Japanese and kimono, and to pass on the culture to future generations. This item was developed with them.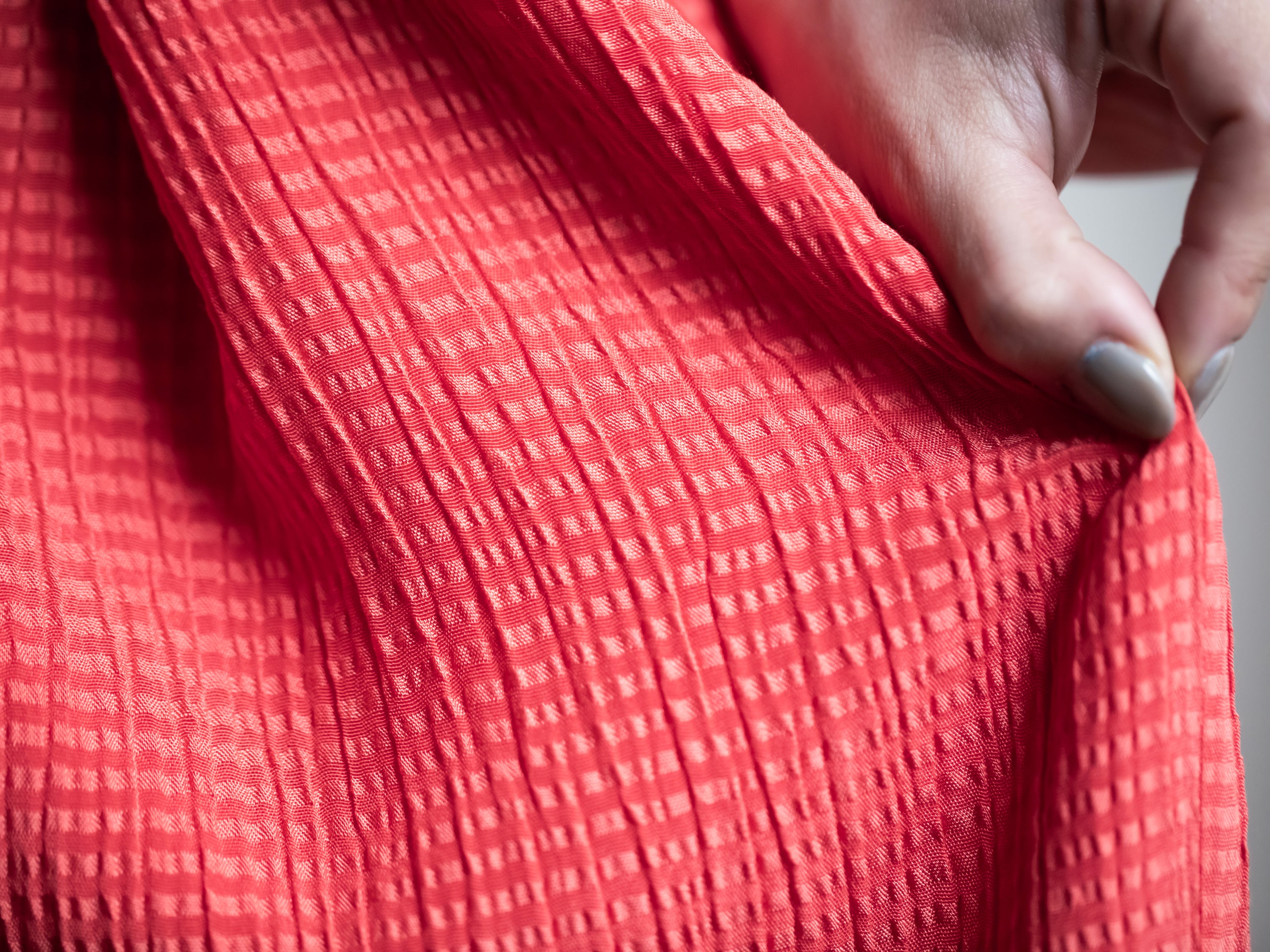 A washable dress made of polyester material
Tango chirimen is mainly made of silk, but the material used is polyester. Polyester shrinks and retains its shape more tightly than silk. Using Usui Orimono's technology, which takes advantage of this characteristic, we are able to create large textures (unevenness) that cannot be expressed with silk. You can also wash it at home, so it is easy to care for.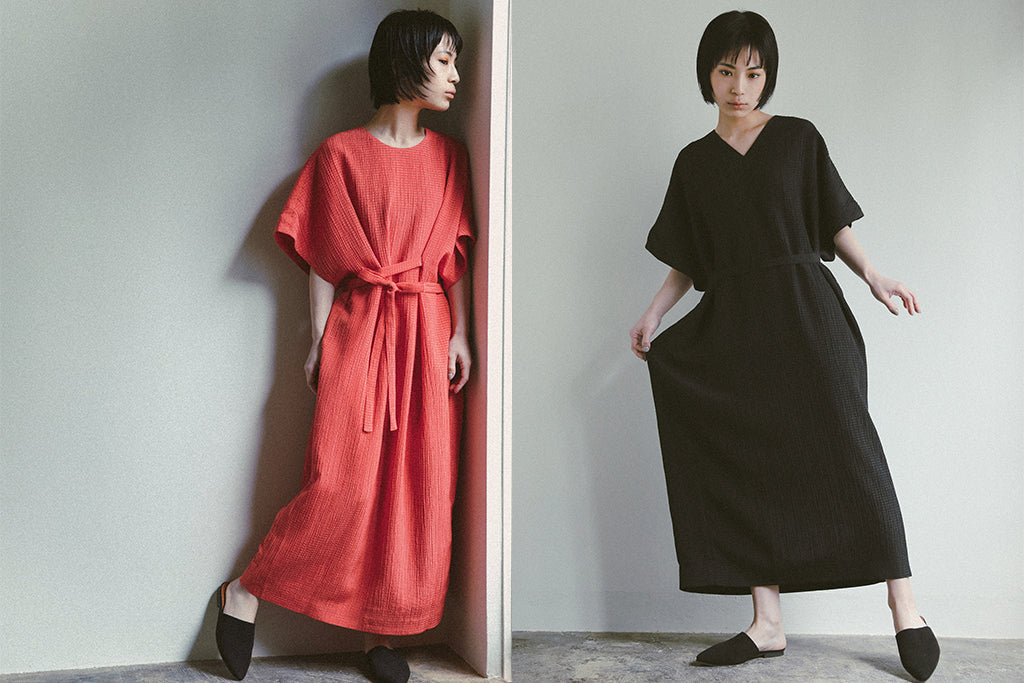 Because it is "front and back 2way", you can create 2 impressions with 1 sheet
You can wear it either front or back. The round-neck style has a design in which the ribbon is tied in front and gathers appear in front. On the other hand, the V-neck style has a neat design on the front because the ribbon goes to the back. Although it has a relaxed silhouette, the waist mark gives it an elegant impression.

About returns
Unless the product is defective, we generally do not accept returns or exchanges. As a general rule, we accept returns and exchanges due to defects within 7 days of receiving the product, provided the product has not been used.
*Please note that we cannot accept returns or exchanges in the following cases.
・When it is due to customer's convenience (customer's own color, image, size difference)
・When 7 days have passed since the product arrived
・Damaged or damaged due to the customer's responsibility

important point
・Actual colors may differ from posted photos due to monitor settings.

Handling
・You can put it in a net and wash it in a washing machine.
・If you wash your hands gently, it will last longer.
・When using an iron, please use a pressing cloth.
・Please refrain from using a dryer as it may cause discoloration and damage.
・Avoid using detergents containing bleach or fluorescent agents.