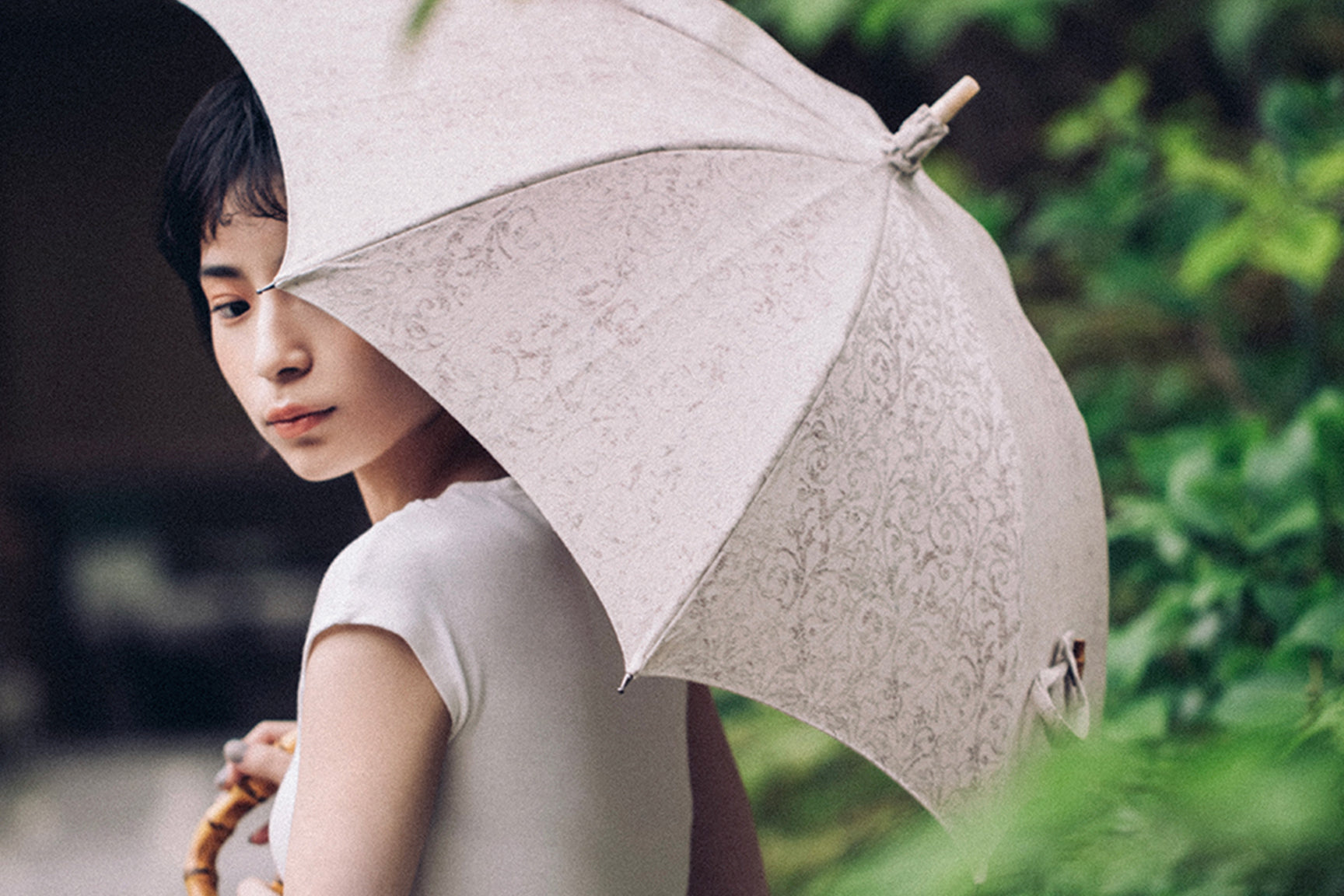 A parasol wrapped in the traditional Nishijin fabric
A parasol made with Kyoto's traditional craft "Nishijin textile". Nishijin brocade, which has been praised both domestically and internationally as a typical Japanese woven fabric, has been tailored with a design that blends in with modern lifestyles so that you can enjoy it more closely.

While pursuing "ease of everyday use" with chic patterns and colors, it is an item that emphasizes the original charm of Nishijin textile, which changes the appearance of colors and patterns depending on the light.

In addition, we paid particular attention to the pattern and color of the weave on the back so that you can enjoy the back side of the Nishijin weave when you put the parasol on.
"Cotton" and "decayed" expression realized by advanced technology and color sense
The goal was to create a "decayed" beauty like the frescoes in old Italian churches. It is expressed by the technique of Nishijin textile, and "cotton" that can be worn lightly even in summer is adopted. Thanks to the skills of Kajikinran, a weaver in Kyoto, a parasol with both expressiveness and functionality was born.
Beautiful form and durability handcrafted by Kyoto craftsmen
We asked Onouchi Shoten, which was founded in 1903 in Kyoto, to make the parasol. The umbrellas are handcrafted by craftsmen, and they pay close attention to the tension of the fabric. This creates a beautiful curve and extends the life of the umbrella, so you can use it for a long time.
High light blocking rate and UV cut rate realized only by Nishijin textile
It has become a highly practical parasol with a UV shielding rate (UV cut rate) of 99.6% and a light shielding rate of 99.53% without any special processing. This is made possible by the use of cotton, a natural material with high light-shielding properties, and the fine weave that can only be achieved with Nishijin textile technology.
Handling
・Do not use when it is raining even a little.
・Do not use waterproof sprays or UV cut sprays.
・If the bone part is broken, it may be possible to repair it. Please contact us.
・The product will be shipped in a box, so if you do not use it for a long time, please store it in the box.
For other detailed handling, we will enclose a manual with the product.

important point
■Actual colors may differ from posted photos due to monitor settings.
■It may differ from the image due to the cutting of the fabric.